项目介绍 Project Introduction
Mini Mars是一个家庭的梦幻乐园,我们创造了一个亲子乐园和餐厅集合一体的孩童空间。
其创始人的理念是"陪伴,使生活更美妙",让每一位父母在Mini Mars都能真正的感受到陪伴时光的美妙,与孩子是一起玩一起跳、一起吃饭一起闹、一起记录孩子成长的那一刻。
Mini Mars is a family's Dream Park, We created a children's space where parents and children's paradise and dining hall are integrated. Its founder's idea is to "Stay With U", Let every parent can truly feel the wonderful time with Mini Mars, playing with children, dancing with them, eating with them, making fun with them, and recording their growing moments together.
设计理念 Design Concept
我们强调空间的美观实用与安全健康并重,设计概念发展以太空为主题,以一次"火星之旅"为主线,解放每个孩子玩的天性,并赋予他们无限的想象空间。
灵感来源于早期太空元素的经典符号,我们将其应用至空间的各个区域,使整个空间干净、整洁、充满幸福感,对色彩和材质的把握有着极高的要求。
在游乐设施及道具的设计上充分考虑儿童和成人的使用差异,突出"陪伴"的主题理念,可使成人与儿童共同参与,并在所有尖锐的边缘都使用软包保护,使其成为空间装饰的组成部分。
同时,设计师特别将整体空间按"动-静"分区,为孩子们创造了一片特别的冒险空间。
We emphasize the importance of beauty, practicality, safety and health in space. Space as the theme of design concept development, take a trip to Mars as the main line, liberate every child's nature to play and give them unlimited imagination.
Inspired by classical symbols of early space elements, we apply it to all areas of space. Make the whole space clean, tidy and full of happiness, the color and texture of the grasp with high demands.
Fully consider the differences between children and adults in the design of recreational facilities and props, highlighting the theme of " Stay With U ", make adults and children can participate together, and use soft package protection on all sharp edges, make it an integral part of space decoration.
At the same time, the designer specially divides the whole space into "dynamic-static" zones, create a special adventure space for children.
入口区域 --- 即将开启火星之旅
欢迎来到空间站,穿越时空隧道即将到达火星基地,开启一次有梦想、有惊喜的旅程。
Entrance area --- Upcoming trip to Mars
Welcome to the space station, will arrive at Mars base through the time tunnel,start a journey with dreams and surprises.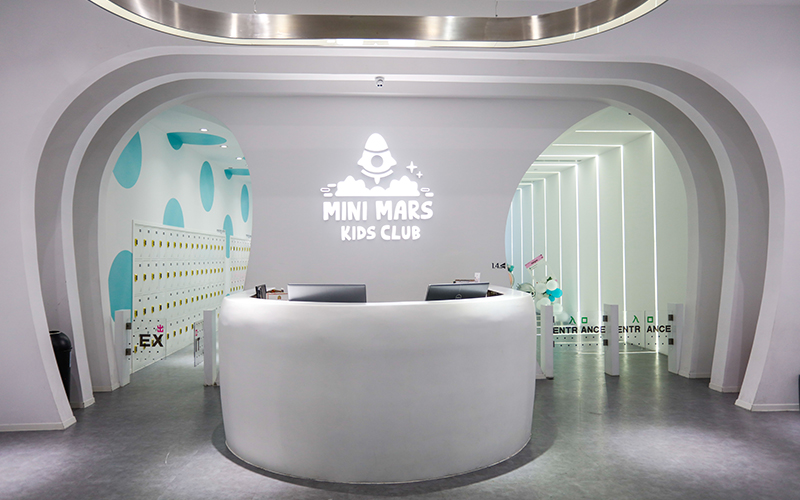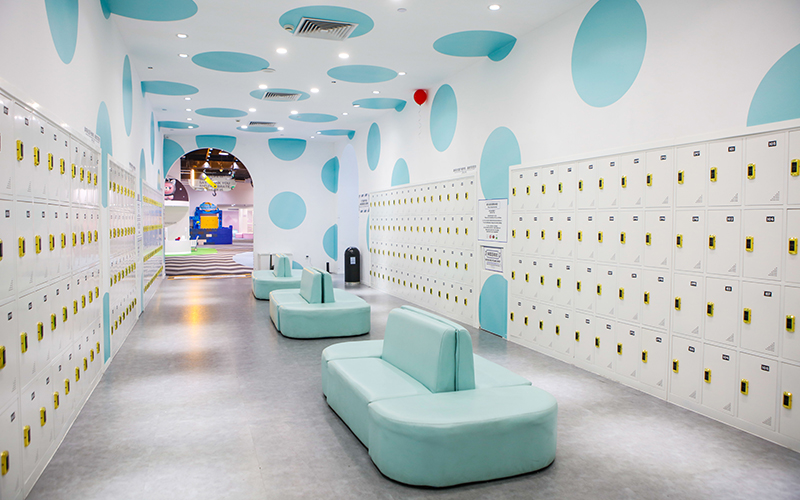 一层区域 --- 动态游乐区
我们的探险之旅包含了:坑洞弹跳、火山探险、银河漫步、火星救援、火星Town、建筑基地,宇宙赛车等游乐区域,让孩子们进入"火星"之后开始愉快的探索。
同时,我们特别为了低龄儿童设置了baby区域,避免了大、小童相互冲撞的危险。
One Layer Area - Dynamic Amusement
Our expedition includes: hole bouncing, volcanic exploration, galactic walk, Mars rescue, Mars Town, construction base, space racing and other recreational areas, let the children go to Mars and start exploring happily.
At the same time, we set up the baby area especially for the younger children, avoiding the risk of collision between the older and the younger children.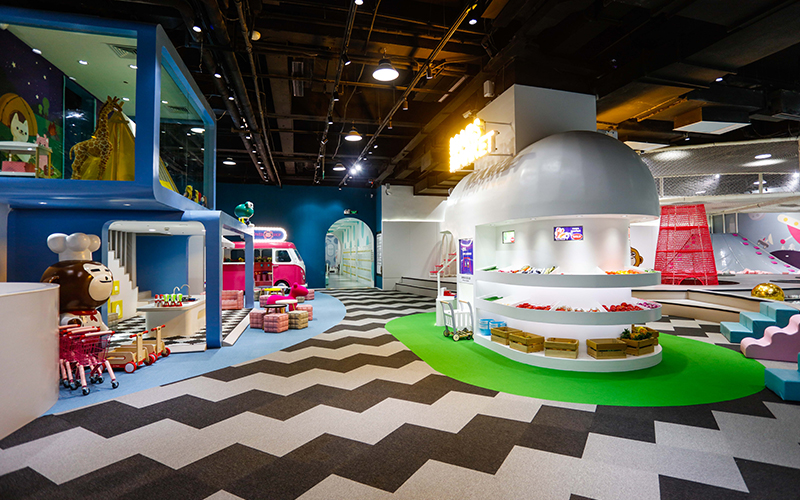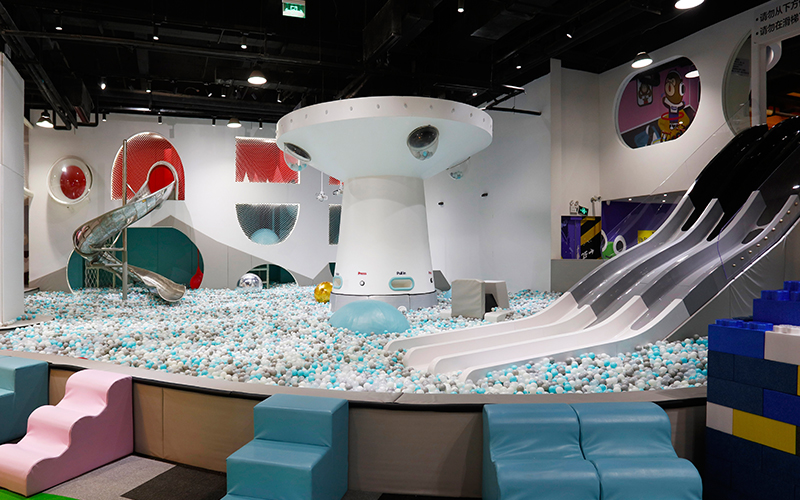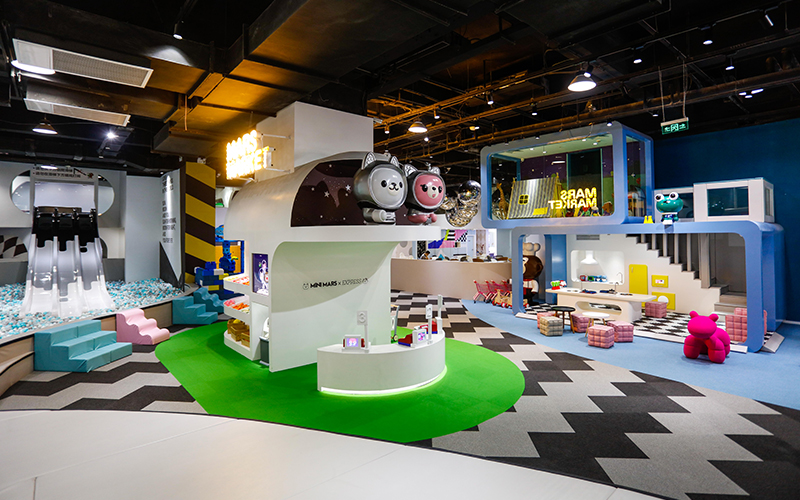 Mars Town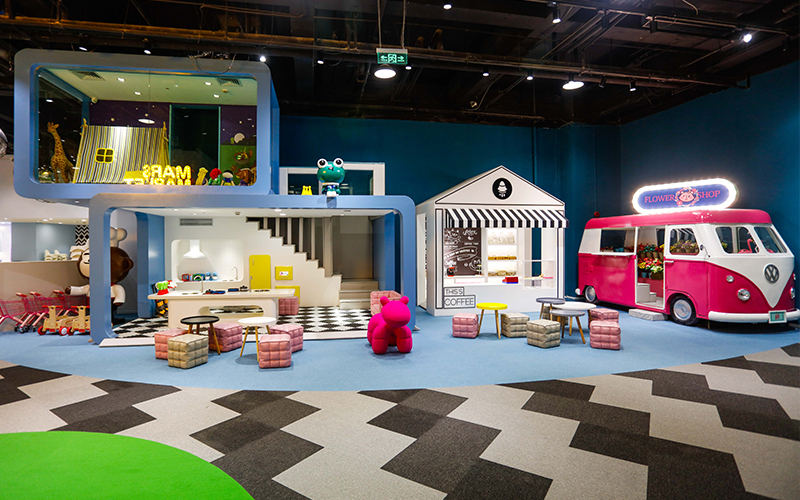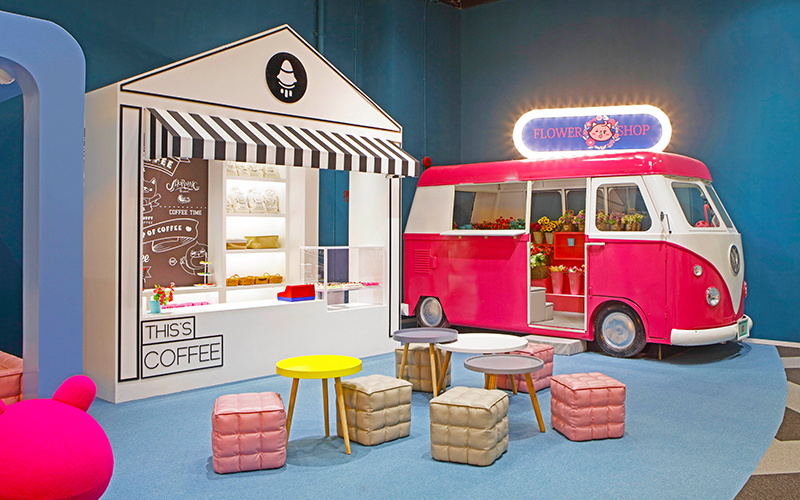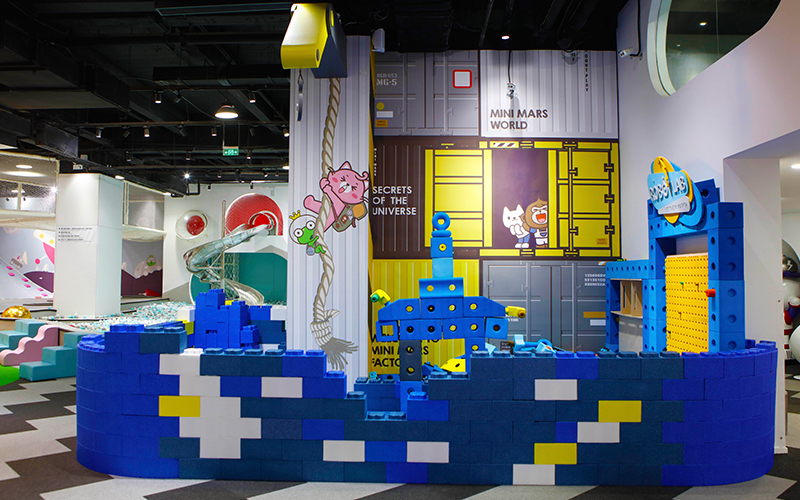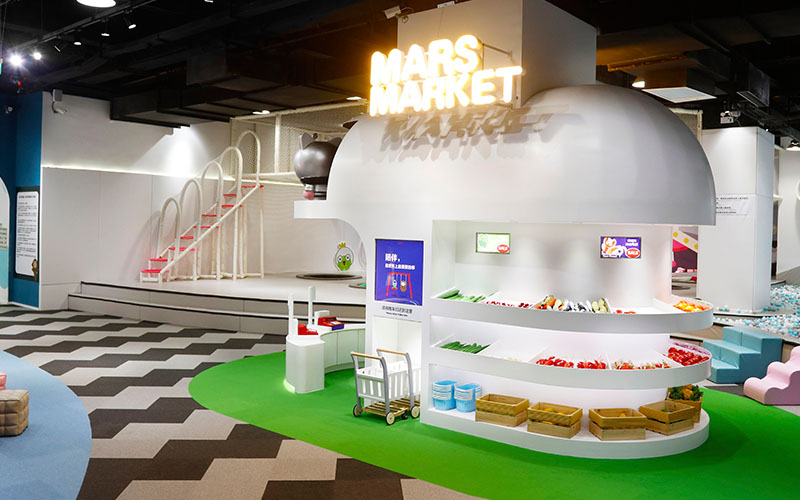 Mars Home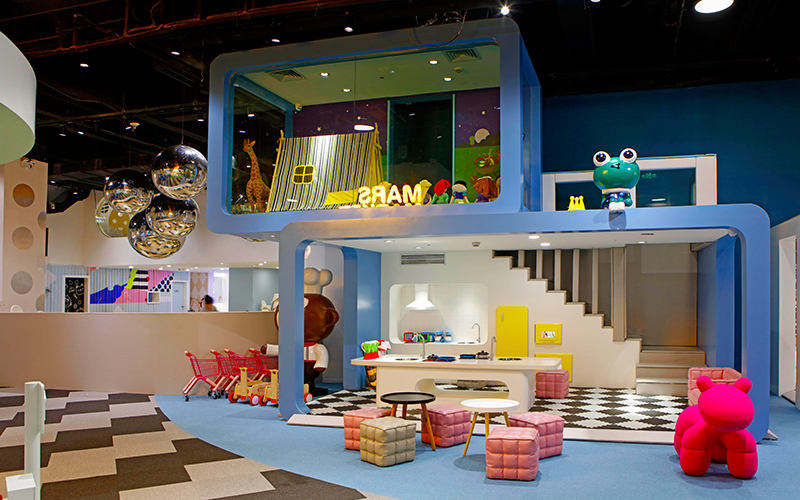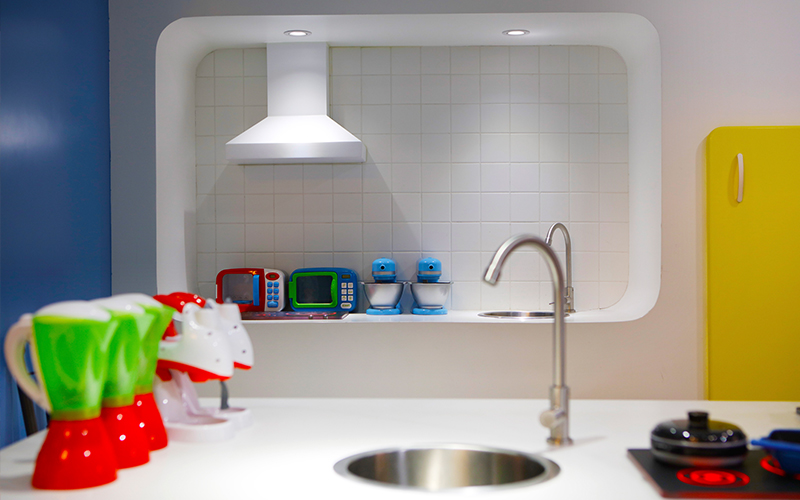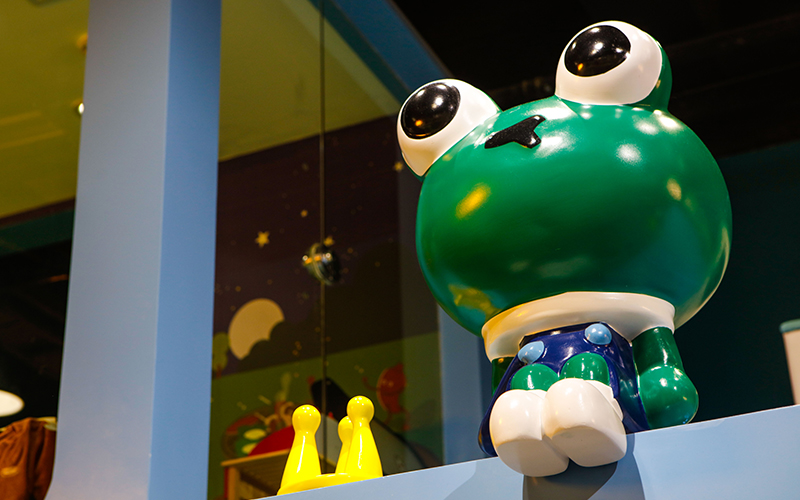 Baby Zone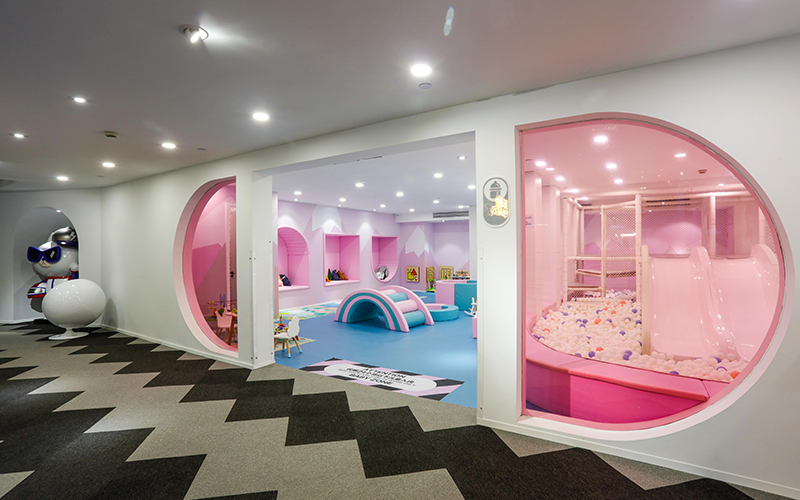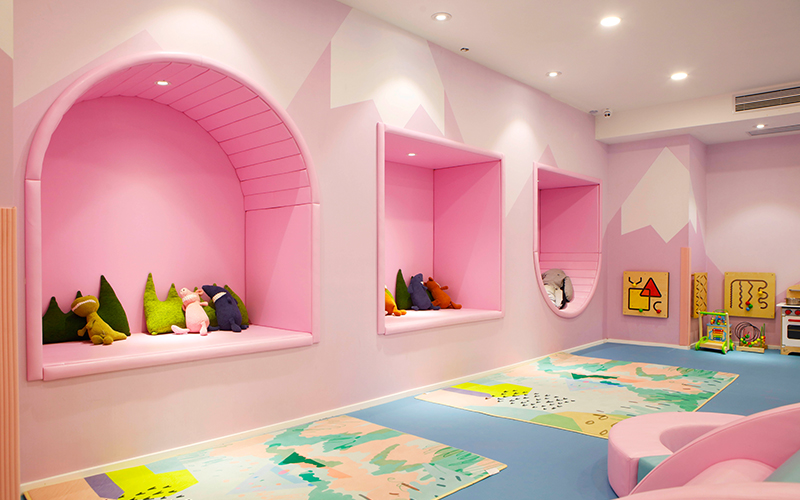 Race Area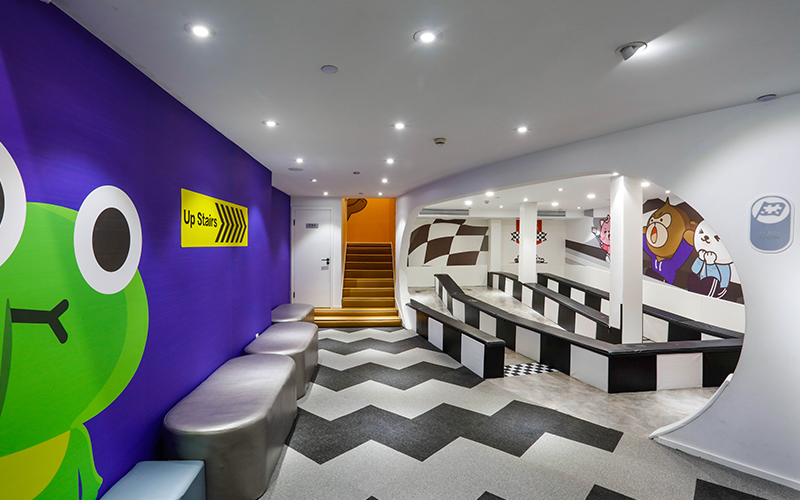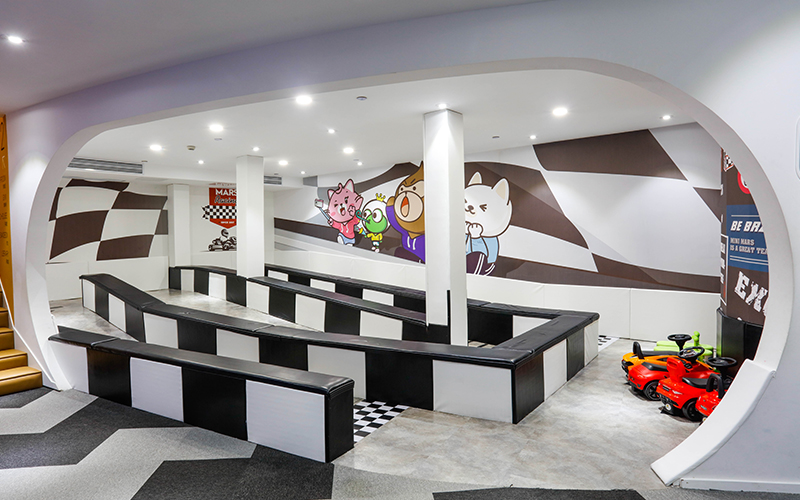 二层区域 --- 静态游乐区
我们的探险之旅包含了:健身房、乐高拼装、互动涂鸦、火星沙池、绘本阅读等相对安静的区域,让喜欢孩子们静静的坐下来在此游戏。
Second floor area - static amusement
Our expedition includes: gym, Lego, graffiti, sand pool, reading picture books and other relatively quiet region, let like children sit down quietly in this game.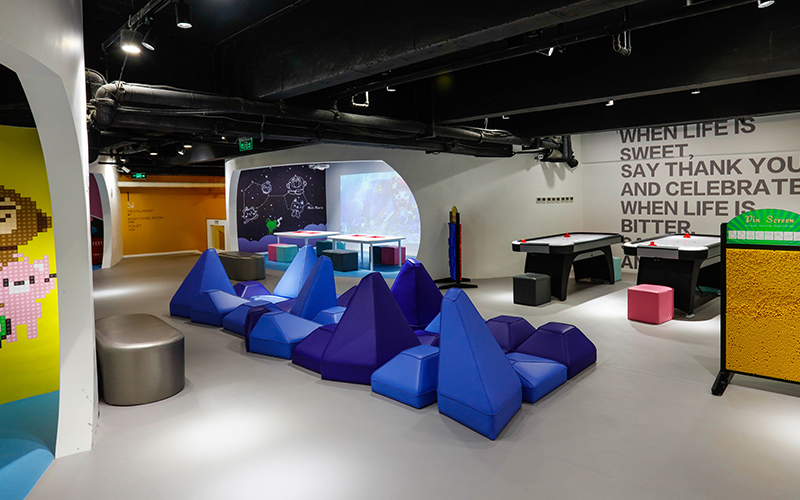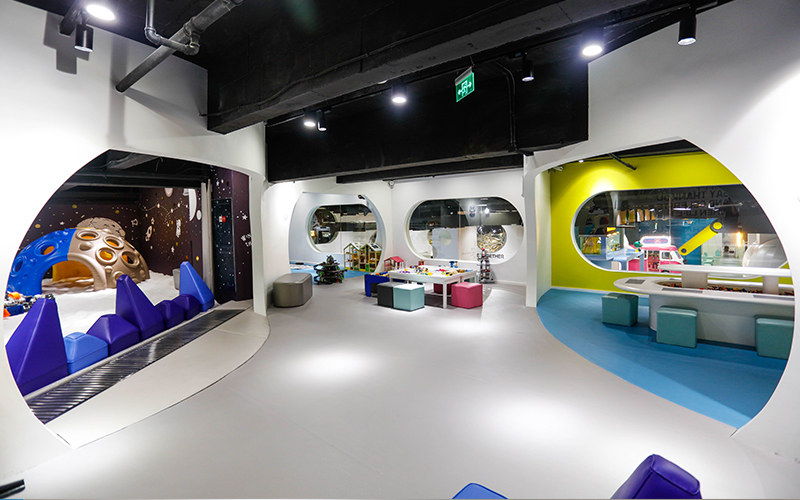 Lego \ Gym \ Sand pool \ Painting \ Reading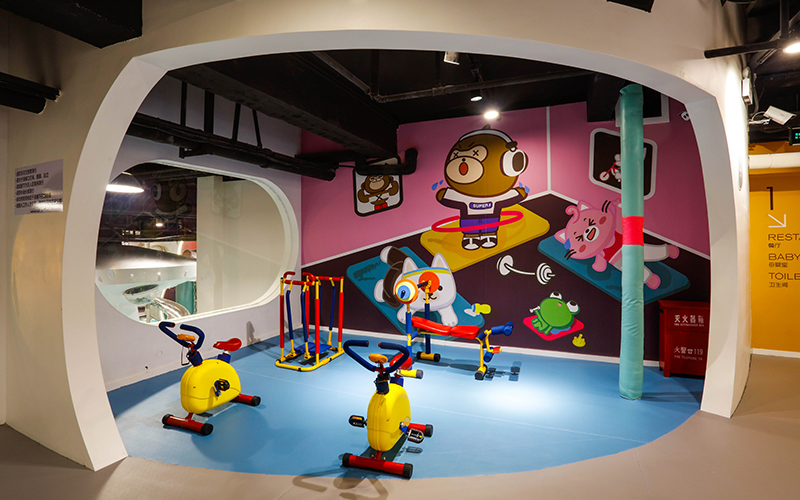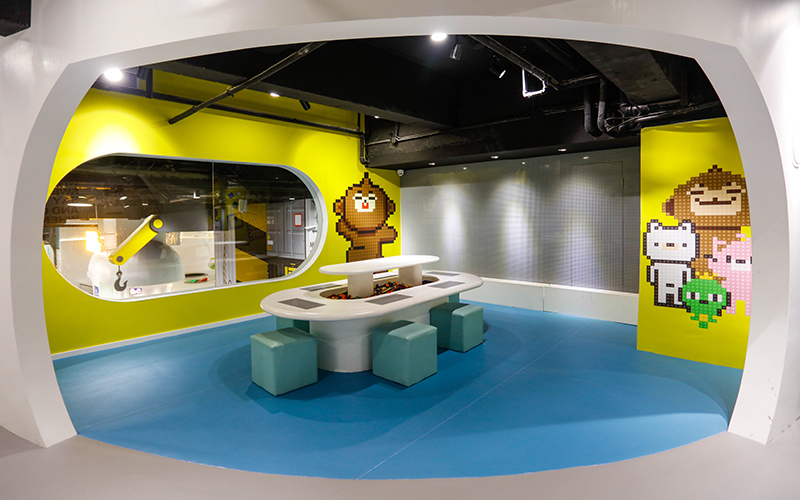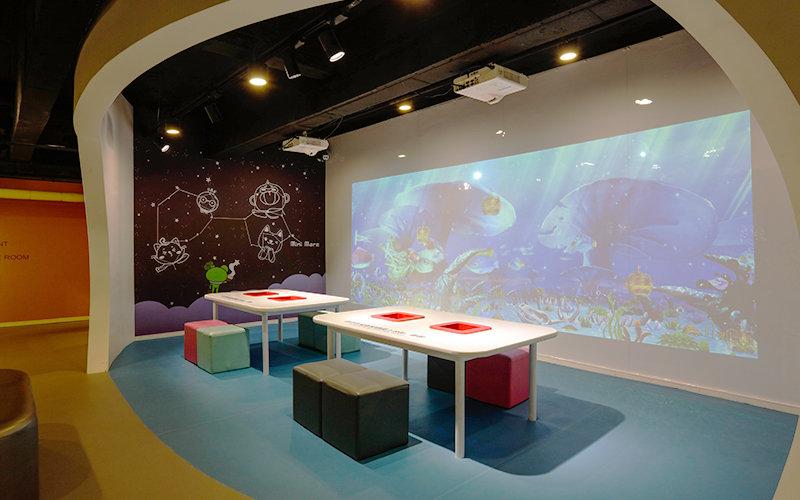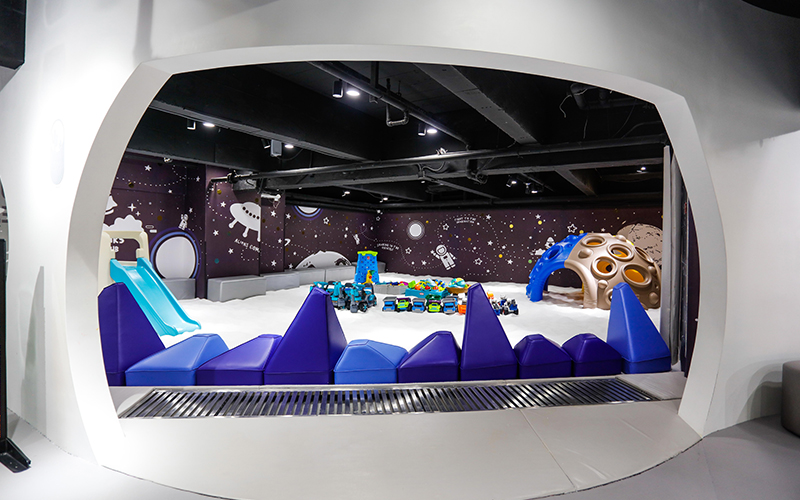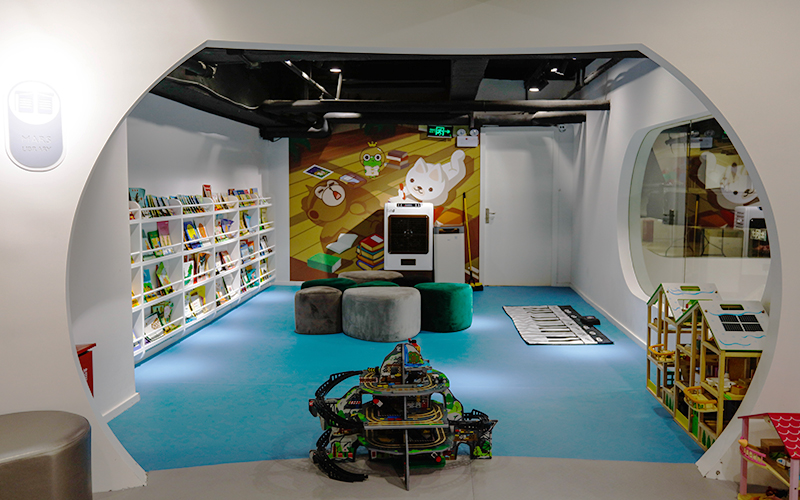 餐厅区域 Restaurant area
餐厅位于一层正对着游乐区,给孩子一个补充能量继续探索火星基地的场所,父母则可以随时观看宝宝的动态。
同时设计师预留了两片相对独立的区域,给过生日的宝宝举办派对使用。
The restaurant is on the first floor facing the playground. Give child a place to replenish energy and continue exploring the Mars base. Parents can watch the baby's movements at any time.
At the same time, the designer reserved two relatively independent areas to hold parties for the birthday babies.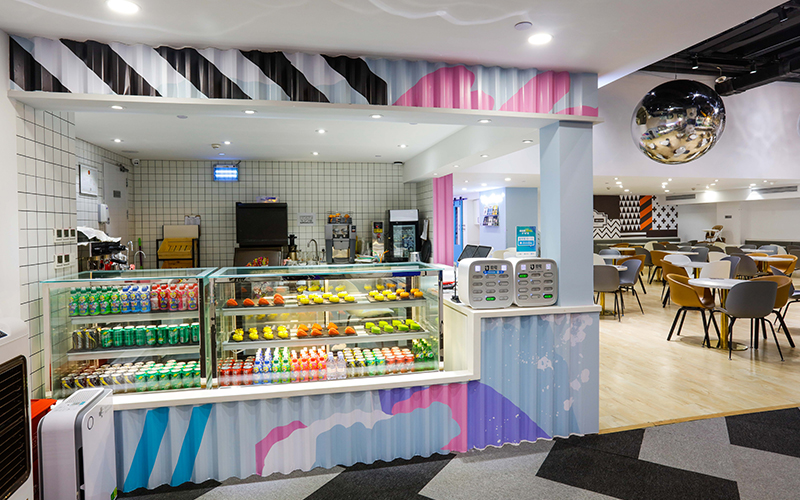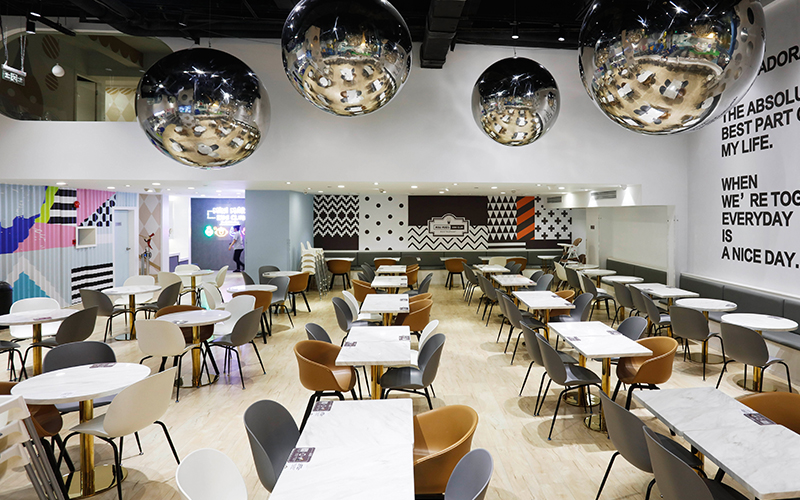 空间布局 Spatial layout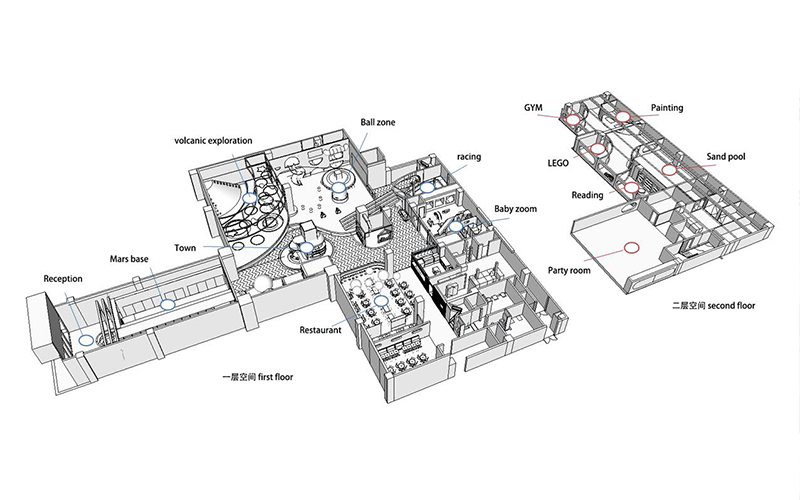 一层平面规划 First floor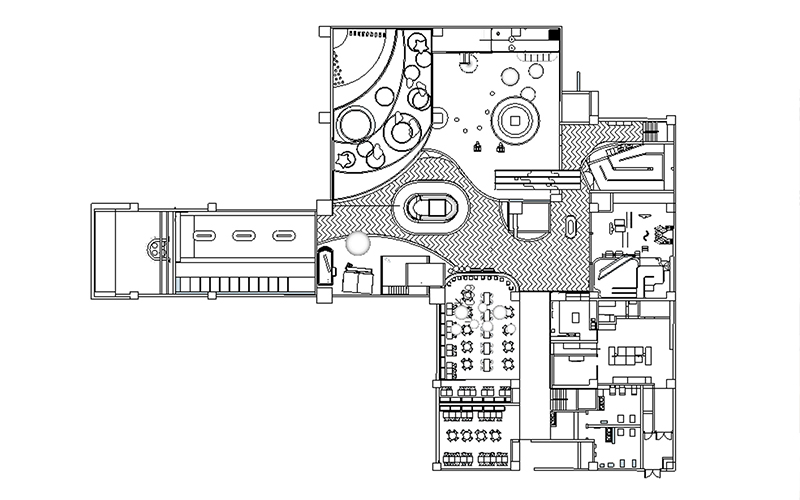 二层平面规划 Second floor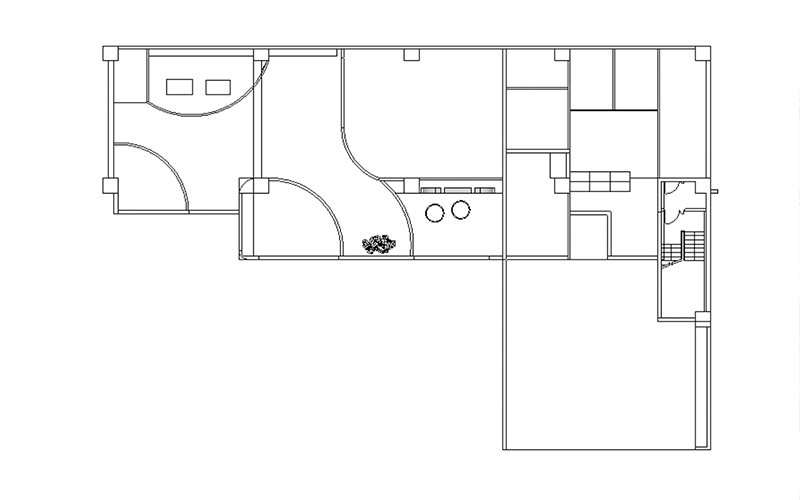 剖面 Section



项目名称:MiniMars 长宁店
建筑面积:3500㎡
设 计 方 : SURP

主创设计:沈鑫凯
项目设计 & 完成年份: 2017.08 & 2018.01